What I Ate Wednesday! (Salad Love Edition)
Happy hump day and welcome to the What I Ate Wednesday party, hosted by the lovely (soon to be mommy), Jenn!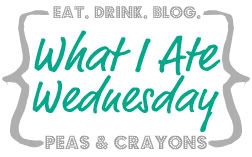 I started off my day with one of my all-time favorite breakfasts! You guessed it…..pancakes! This
single serving protein pancake with no protein powder
comes from
Brittany at GotheXtraMile
. I love this pancake and I will definitely be making it again! I spread a little bit of sunbutter on and topped it off with banana slices, diced strawberries, a sprinkle of coconut, and a little drizzle of maple syrup….yum!
Although unpictured, you better believe I got my caffeine fix too!
Snacks for the day were baby carrots, a clementine and a Chobani Flip. So far I've tried the Vanilla Golden Crunch and the Raspberry Choco Fix, now I really want to try the Almond Coco Loco. The Raspberry is my fave, so far. It was soooo good!
Lunch was leftover pesto pasta served over spinach and with two pieces of a multigrain baguette. This pesto pasta recipe is seriously so easy and quick and is fabulous served salad style!
After multiple recommendations, I finally tried the passion tea. I had the sugar-free lemonade version….you guys were right….love! For dinner, I had my favorite Trader Joe's premixed salad with the addition of my own mixed greens.
And that's a wrap! Hope you had an awesome day of eats too!
Something to think about….
Ever tried Starby's passion tea?
Ever tried a Chobani Flip? What's your favorite flavor?
Favorite breakfast….go!