A Weekend Full of Delicious Eats
Good morning, foodie friends! Hope everyone's week is off to a lovely start. As expected mine is already SUPER busy. That's okay, though, because counting today I only have 7 work days left until summer vacay. Yippee!!!
It's Wednesday, so that means I get to share some of my recent eats with you. For this week's What I Ate Wednesday; I'm highlighting some of my weekend eats. I baked several recipes and, luckily, they all turned out great!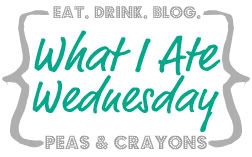 My first successful recipe of the weekend was
Double Chocolate Whole Wheat Muffins
. Unfortunately, it was a dark and dreary day and I didn't get the photos I would have liked. These sure are tasty, though! I enjoyed my muffin with scrambled eggs and fruit…. perfect way to start the day!
I've been craving this Light Vegetable Frittata ever since lunch on Saturday. I had a slice, Landen had a slice, then Brad comes in for his serving and poof… it's gone just like that. One serving is just not enough! I made it a full-on breakfast for lunch and served my frittata with coffee and toast (topped with almond butter and grape jelly).
Some of my favorite snacks, lately, have been raw baby carrots and broccoli with Cilantro Jalapeno Hummus, grape tomatoes, Quest bars, apple slices with nut butter, dried figs with nut butters and popcorn. I've been making the Cilantro Jalapeno Hummus every weekend with jalapenos from our garden. Cannot get enough of this stuff!!! I use three unseeded jalapenos for extra spice.
One dinner that I made this past weekend was a vegan Sweet Potato Black Bean Taco Casserole. I can't wait to share this recipe with you guys!!! It was super easy and didn't require any precooking of the veggies. Easy, quick and delish… my favorite kind of dinner recipe!
Another recipe that I can't wait to share is my latest dessert of choice, Chocolate Almond Butter Cookies. These are flourless, fairly healthy and really scrumptious!
Hope your recent eats have been just as incredible!!!!
Something to think about….
What have you been chompin' on?
Have you ever made chocolate muffins? How about a frittata?
Did you enjoy a special Memorial Day meal?
Happy eating! See you back here tomorrow with a really cool giveaway!