What I Ate Wednesday: Summer Foods
Hi, Friends! How is everyone's week going? Mine is going pretty good… a little busy because next week is back-to-school week, which I guess will only get busier.
It's What I Ate Wednesday, so I'm sharing some of my recent eats and treats, with you. I've been especially loving summer foods like watermelon, berries and iced coffees. I'm looking forward to all of the foods that come with fall, but can we just keep watermelon around at all times? 😉
I've been starting my mornings off with coconut mocha k-cups. Even if it is summer, I just have to have my hot coffee in the morning. After lunch, though, I'm craving iced coffee. If you haven't had a chance to check out my recipe for easy peasy cold-brew <—– click this link to check it out. I'm slightly addicted!
This week, for breakfast, it's been all about the oats. I made banana blueberry steel-cut oatmeal in my slow cooker (<— recipe link) on Sunday and I've loved having breakfast ready to go in the mornings. I add a little crunchy peanut butter, stevia and almond milk and heat it up for a couple of minutes in the microwave. That's it!
I've been on a huge salad kick lately, especially ever since adding watermelon to my salad. It gives it so much flavor and you guys know what a huge sweet tooth I have. I even love a sweet salad! Brad picked up an orange watermelon from a local produce stand last weekend and whoa is that baby sweet and juicy! I cannot. get. enough!
Snacks have been a little different than my typical Quest bars and apples. I'm working on a sponsorship with Nature Box and I'm so loving all of the goodies they sent over… some sweet and some savory… a good mix.
Also, this past weekend I did some photography work for Rockin' Refuel, with their peanut butter oatmeal bars. I've already got some ideas for an adaptation, so stay tuned. I can't stay out of the pan, if that's any indication of how they turned out. Last night, I crumbled a bar up with some frozen cherries and Arctic Zero ice cream… yum!
Head on over to Jen's blog by clicking on the button below and check out other WIAW posts!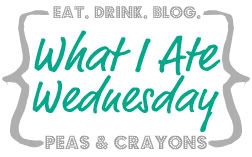 Something to think about….
Have you ever had orange watermelon?
Have you ever made your own iced cold-brew coffee?
What fall food are you most looking forward to? For me, it would have to be kabocha squash.