Searchin' for my lost shaker of salt….
Hello, foodie friends! It's What I Ate Wednesday; Margaritaville-style. That's right I'm in Destin, Florida…aka… The Best Place on Earth!
Brad and I drove all Monday night and arrived here in Destin at about 10:30 am, yesterday. We pretty just relaxed all day and took a nice three hour nap. We're vacationing with several of Brad's family members and they've already been here for a couple of days, so everyone was doing their own thing for dinner. Brad and I got to go to dinner all by ourselves…YES!
Margaritaville it was! We've been to Destin several times before and fairly recently, but Margaritaville is new and we were really excited to check it out.
And what other way is there to start off a beach vacation then having a frozen mango margarita at the one and only Margaritaville! This just might have been the most delicious margarita I've ever had. 😉
They also had a watermelon and blueberry pomegranate version… I guess I'll just have to come back. Luckily, it's just a few steps from my hotel room!
Not only was the margarita fabulous, but the food was pretty great too. I had the fish tacos made with grouper. Grouper is one of my favorite fishes to eat.
The fish tacos actually came with a battered and fried fish, but I asked if they could use a grilled fish (with no butter added) and sure enough they did. It never hurts to ask!
My fish tacos came with a Spanish rice and black beans. Brad had blackened grouper with a mango salsa and an over-the-top delicious rice. I wish I knew what seasoning was used to cooked Brad's rice. Brad and I both agreed, it was some of the best rice we have ever had.
When we walked out of Margaritaville, it was very obvious that a storm was brewing. But the kiddos still made it down to the Harbor Walk for their weekly Fat Tuesday parade. (A view of the parade from our hotel balcony.)
Luckily, the parade was finished before the storm clouds let loose. We got a pretty good rain shower. Here's to hoping for beautiful weather tomorrow. We've got pontoon boat plans.
Head on over to Jenn's blog, Peas and Crayons for more What I Ate Wednesday shenanigans!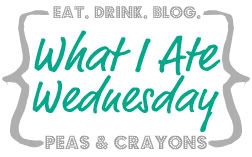 Something to think about…
Are you a fan of margaritas? Do you have a favorite kind?
Do you have any vacation plans this summer?
Have you ever tasted grouper? If you're a fish fan, what's your favorite kind?
Hope you have half as much fun as I plan on having today!
In other news: I could not properly post today without mentioning that today is my little man's 13th (yikes) birthday!!! Where does the time go?