Recent Eats: Smoothie Love
Hello!
We're halfway through the work week and I've only got one week and 4 days after this week until summer vacation. Yippee!!!!
For What I Ate Wednesday, this week, I'm sharing some delicious eats that I've been enjoying lately. Lots of smoothie love, recently!!!
This past week, for breakfast, I've eaten quite a few of these quinoa pancakes. They are so tasty and easy, I just can't get enough! I've also been enjoying my favorite blueberry banana overnight oats.
Bring on the smoothie love! I've been enjoying lots of smoothies for lunch and snacks, in a cup and in a bowl. During the work week, I don't get to enjoy green smoothies during the day, but over the weekend, they're my go to for getting in plenty of greens. I think we need a Vitamix in the teacher's lounge! 😉
For the smoothie bowl below; I used my go-to green smoothie recipe and added about 1/4 cup Greek yogurt. Toppings were diced strawberries, peanut butter puffins and honey-nut cheerios…. yum!
Recently, I've had the opportunity to work with Rockin' Refuel and photograph some of their recipes for their social media sites. It's been a win-win because their recipes are so tasty!
This Blueberry Peach Banana Smoothie made with Rockin' Refuel Vanilla Muscle Builder was the perfect after workout snack for muscle recovery!
I enjoyed the Berry Banana Avocado Smoothie made with Rockin' Refuel Chocolate Muscle Recovery for a sweet treat throughout the day. I kept it in my fridge on Saturday and anytime my sweet tooth had a craving, I just had a few sips of this smoothie. I love the creaminess that avocados give smoothies!
My favorite snack this week has been these Rockin' Refuel Strawberry-Sicles made with Strawberry Muscle Recovery. Landen can't get enough of these either!
We had taco night, this past weekend…. my favorite. Love taco night because there's no complaining from the kids, it's easy and SUPER delicious. Excuse the horrible pictures, but I was ready to bite into these tasty tacos. My tacos were layered with black refried beans, guacamole, lean ground turkey, roasted bell peppers and onions.
I'm still experimenting with the chicken dinner that I'm creating for Weight Watchers. The first time I made the chicken, I stuffed it with broccoli and cheese and kept the chicken plain. Last weekend, when I made it for the second time, I decided to jazz things up a bit and add a panko bread crumb coating to the chicken…. so good!
Well, that's a little peek into my recent eats. Head to Jenn's blog to check out what other bloggers have been eating lately. Thanks for hosting, Jenn!!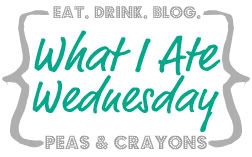 Something to think about….
What deliciousness have you been eating lately?
Have you ever made a smoothie with avocado?
Have you ever tried Rockin' Refuel? Very tasty stuff!
Happy eating!