Delicious Weekend Eats!
Hello! Guess what guys… today and tomorrow and then it's SUMMER VACATION for me!! I'm pretty much counting the hours down. 🙂 I did get quite a few new recipes made this weekend and they all turned out fabulously. In honor of What I Ate Wednesday, let's take a look at a few of those meals that I ate this weekend.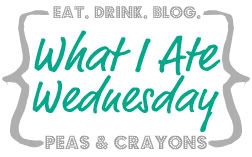 You guys know my day started with coffee and Coconut Mocha it was. Love that stuff! It's really not a weekend breakfast unless there's pancakes or waffles, am I right? These Wheat Pancakes with Apricot Pecan Topping turned out so good and I can't wait to share them with y'all. Based on recipes pinned, you guys love pancakes as much as I do! 😉
I woke up a little later than normal and the pancakes for breakfast kept me full right on till lunch. Have you guys tried cauliflower "couscous"? It's not real couscous, but the cauliflower is pulsed in the food processor until it becomes just like couscous. This stuff is seriously the best thing since sliced bread. I can't wait to create more versions. I'm thinking a Southwestern variety has to be next. Sorry to tease y'all, but this is another recipe that I'll be sharing in the coming days.
Snacks for the day pretty much consisted of lots of taste-testing. Believe me I had my fair share of snackage! Dinner is another new recipe that I'll be sharing soon and another winner. Both Brad and I used this Taco Turkey Quinoa Mix as tortilla filling… very good idea! I topped mine with avocado and Brad topped his with avocado and salsa. He approved!
There may have been plenty of snacking going on during the day, but there's always room for dessert. Since the weather's warmed up, I've been enjoying Yasso Frozen Greek Yogurt bars. These are such a decadent treat that you would never guess that there's only 100 calories in each bar. You know how I've been trying to increase my protein… well, these bars have 6g of protein in each one. I'd say that's pretty great for dessert! I've loved Yasso Frozen Greek Yogurt bars for quite some time and they just came out with 5 new flavors; Peanut Butter Cup, Mint Chocolate Chip, Chocolate Fudge, Dark Chocolate Raspberry and Sea Salt Caramel. Yasso bars are made with only natural ingredients, including real Greek yogurt, rBST-free milk and natural sweeteners.
And that's that… a day full of deliciousness!
Something to think about….
Have you ever tried Yasso Frozen Greek Yogurt bars? Pretty great, huh?!?!
What's something super tasty you've been loving, lately?
Are you a fan of pancakes or waffles for breakfast when the weekend comes?
Happy eating!