Breakfast x 2
Happy "What I Ate Wednesday"! Yep, it's that time again.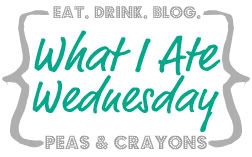 Unfortunately, my Keurig has bit the dust (I think). Since it hasn't been working, my morning cup of coffee is just not what it usually is. I've been using Dunkin' Donuts hazelnut flavor, but I think once you get used to the k-cups it's hard to go back. Luckily, we have a Keurig at work, so I knew I would be able to feed my addiction within just a few hours. 😉
Okay guys, I know that 12 degrees does not even compare to the weather some of you are experiencing. But I'm in Texas and can't even remember when it was this cold. I'm still sticking with the green smoothies and loving them. I drink them in my huge coat with the heater cranked up in the car and I'm able to get them down with minimal shivering. My go-to smoothie is LOTS of spinach, tbsp. almond butter, tbsp. chia seeds, little cucumber, stalk of celery, 1 cup of unsweetened vanilla almond milk and a frozen banana with a little added ice. For more smoothie ideas, check out my smoothie tutorial!
A different morning snack for today. Kind of crazy, but I've been craving cottage cheese lately.
Lunch was definitely a little crazy. You guys know how much I was loving pumpkin oats over the holidays, but now that I'm determined to have a green smoothie every day for the month of January; I've had to give up my morning oats. That just means I have to have pumpkin oatmeal for lunch. Nothing wrong with that. 😉 I cooked these like this… minus the banana and pumpkin butter.
A little while after lunch, it was time for my coconut mocha coffee. I know I say this every time I try a new k-cup, but this is seriously the BEST ever!
My afternoon snack was baby carrots, apple slices and almond butter. Please excuse that recycled photo.
And for dinner, Madelyn and I went out for sandwiches at Which Wich while Landen had gymnastics practice. I had the black bean patty with spinach, tomato, black olives, caramelized onions, mushrooms, feta and Dijon mustard. It was yummy, as usual!
Don't think I didn't reach for a few bites of the Monster Granola Bars for a little treat before bed!
Since my Keurig is not working I wasn't really feeling coffee, so I finally tried some of the green tea that Wild Harvest sent me. Was it as good as coffee? Nope, but it was pretty good.
Something to think about…..
What deliciousness have you been eating lately?
Favorite k-cup, if you use them?
Have you been to Which Wich? If so, what do you get there?
Have a wonderful Wednesday! Be sure to enter the $50 Albion Fit giveaway… today's the last day