Healthy Birthday Power Cakes with Coconut Flour Icing from Kodiak Cakes
Happy birthday to me, happy birthday to me, happy birthday to meeeeeeee! And by, "to me", we're talking the blog. 🙂 That's right Hungry Healthy Girl is 2. It's not a real birthday, though, unless there are birthday pancakes served. Who's with me?!?!
HHG sure has come along way! Check out my very first post and I think you'll agree my photography has improved a little bit. 😉 When I click through posts and photos from my first year of blogging, I cringe… yikes… it's pretty bad. However, I do think it's important to look back, remember how far you've come and how much further you have to go- in a good challenge yourself kind of way. I'm really happy with HHG, today, but there are always ideas swirling around in my head of improvements I'd like to make. I'd also love to take some photography classes and continue to improve my photography skills.
I so appreciate you guys, especially those of you that have been with me since near the beginning! To show my love for ALL of my beautiful foodie/fitness friends (that's you guys), I compiled some of my favorite things for an awesome giveaway. Scroll down to the bottom to enter and read about all of my favorite products in my post from Monday. One of the fantastic companies, Kodiak Cakes, provided me with a box of their brand new protein-packed pancake/waffle mix, Power Cakes. They are also giving a box to the winner of "my favorite things" giveaway!!
I've been a HUGE fan of Kodiak Cakes for years. I professed my love for them here, made pumpkin pancakes with their mix here and snickerdoodle waffles here. All three of my picky kiddos even gobble up Kodiak Cakes, pancake-style and waffle-style!! I was super excited to try Kodiak's Cakes' new Power Cakes. I'm all about increasing my protein! They taste just as spectacular as Kodiak Cakes' other whole grain pancakes/waffles. For recipes and products visit www.kodiakcakes.com. See Kodiak Cakes on youtube.com/kodiakcakes. Like Kodiak Cakes on Facebook for recipes and giveaways at facebook.com/kodiakcakes. Follow on Twitter @kodiakcakes. Find a store near you that sells Kodiak Cake products.
Healthy Birthday Power Cakes with Coconut Flour Icing
Healthy pancakes with the amazing taste of 100% whole grain Kodiak Cakes but with extra protein to help you power up!
Ingredients
For the Pancakes:
1/2 cup Kodiak Cake Power Cake Flapjack and Waffle Mix, any Kodiak Cake Mix works
1/2 cup water, almond milk or any other milk variety
1 egg or 2 egg whites, optional
For the Coconut Flour Icing:
1 tablespoon coconut flour
1/4 cup almond milk, or other milk
1 teaspoon maple syrup, optional
1/2 packet stevia, optional
Instructions
For the Pancakes:
Combine all pancake ingredients in a mixing bowl. For thicker flapjacks, add less water; add more water for thinner flapjacks. Do not overbeat batter.

Pour 1/4 cup batter on a preheated, lightly oiled griddle set at 375F, or on a skillet set at medium to high heat. The griddle or skillet is ready when a drop of water spatters on the heated surface before evaporating.

Flip flapjacks after bubbles stop forming and bottom side is golden brown (should take about 1 minute to cook first side, adjust heat accordingly). Cook opposite side until golden brown (should take about 30 seconds).
For the Coconut Flour Icing:
Combine coconut flour, almond milk and syrup in a small bowl. Add additional flour or milk, 1 tablespoon at a time, as needed. Icing should be drippy.
Notes
If you'd rather have waffles, follow the same instructions and if using water make sure it's cold. Makes one large Belgium waffle.
Double or triple the recipe if you're feeding a family. Nutritional facts for pancakes (without toppings) using water and no egg: calories-190, fat-2g, carbs-30g, protein-14g; for additional protein add milk and egg.
I'm linking up with Jenn at Peas and Crayons to bring you these tasty healthy birthday pancakes for What I Ate Wednesday. Head on over to her blog for more delicious food ideas and to take a peek at what other bloggers are eating!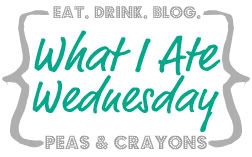 Something to think about….
Do you have any birthday traditions in your family? Birthday pancakes, anyone?
Have you tried Kodiak Cakes? What about the new Power Cakes?
Have you ever used coconut flour for baking, as an add-in or for making icing?
Thanks so much for reading these past 2 years!! <3