What I Ate This Weekend
Hello and welcome to What I Ate Wednesday this weekend! Today, I'm sharing a little peek at my weekend eats.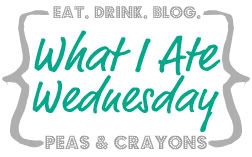 My day always gets started with 2 cups of coffee, one while I'm getting ready for the day and one while driving to work. If it's the weekend, I usually enjoy my first cup before my workout and my second one afterward. My latest flavor of choice is coconut mocha…. so good!
As the weather's getting warmer; I've been craving overnight oats like crazy. I'll be posting my go-to recipe tomorrow and a tutorial for making the perfect jar/bowl of overnight oats. If you haven't jumped on this bandwagon, you MUST check back tomorrow.
Snacks of choice, this weekend, were everything Van's and of course plenty of fruit, baby carrots and cherry tomatoes. If you want to get your own Van's snacks, be sure to enter the giveaway at the bottom of the post!
Lunch on Saturday, after my workout, was my go-to green smoothie. It's a been awhile and I'm definitely back on my green smoothie kick. In fact, I had one for breakfast yesterday morning!
I've been doing a lot of cooking on the weekends and I wasn't really feeling it this past weekend. I went with a quick and easy dinner on Saturday night. I picked up the salmon you see below, premarinated from Costco. They are so delicious and you just pop them in the oven, frozen, for about 30 minutes. They come individually wrapped, so you're able to unfreeze only what you're going to use. I served mine over a salad with a sweet potato on the side. I've been eating sweet potatoes like they're going out of style. I've had one everyday this week, so far!
After doing a little baking on Sunday; my after dinner treat was one of these scrumptious Lunch Lady Brownies. Have you ever had Lunch Lady Brownies? They are very similar to a piece of Texas Sheet Cake, but a little less cake-like and more fudgy.
Something to think about….
Have you ever tried overnight oats? If so, what are your thoughts?
Are there any foods that you've been eating like crazy this week?
Do you eat salmon regularly? Did you know that you should by wild-caught, rather than farm-raised? Read about that here.
Have a wonderful Wednesday! Guess what? There's still time to enter my Van's Natural Food giveaway. Enter below!