What I Ate Wednesday: Tomato Love
Hello! It's Wednesday and you know what that means… it's time to take a look at what deliciousness I've been enjoying. To be honest, I really haven't been documenting my eats very well, lately. Don't get me wrong, I really enjoy food photography, but being on vacation was a great opportunity to take a break from all of the documenting and just enjoy my eats. And boy did I ever enjoy my eats! 😉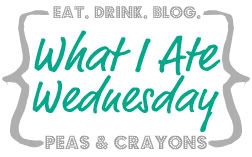 I'm linking up with the "What I Ate Wednesday" queen,
Jenn from Peas and Crayons
. Be sure to hop on over to her blog for other WIAW posts! For breakfast, I've been rotating between
oatmeal
 (this recipe- minus the pumpkin and more banana and berries),
overnight oatmeal
,
pancakes
and
smoothies
. Yesterday, I enjoyed my
Peanut Butter and Jelly Smoothie
with grapes, spinach and vanilla Greek yogurt. It was the perfect morning meal to enjoy while I drove Madelyn to horse camp!
Lunches have been huge salads and ALWAYS include a beastly tomato. We've got tomatoes taking over our backyard…and our kitchen table!!
Don't worry none of these babies are going to waste. We've given some away, we're pretty much eating a tomato with every meal and Brad's making salsa like it's going out of style. Speaking of which, I finally had the opportunity to retake and update the photos for his garden salsa recipe that's on the blog. If you want the best homemade salsa ever, click this link and check out Brad's famous 😉 recipe.
Oh and now to those salads… look at the delicious one that I brought to the beach with me, while on vacation. I used my own spinach and avocado and then added a pre-made salad from Fresh Market. I really enjoyed shopping at Fresh Market. I don't have one near me here in Texas, so I took complete advantage of the one that was in Destin.
And the salad from yesterday… I combined spinach, a tomato (of course), chopped roast beef, pea shoots and a pre-made bulger salad that I picked up from Trader Joe's. Good stuff!
Landen had gymnastics practice, so after picking Madelyn up from horse camp, we headed to Starbucks to kill a little time and enjoy a snack. She had a caramel frapp, and since it was rainy and gloomy outside, I decided on a hot coffee. I had my usual… Pike Place grande with two pumps sugar-free cinnamon dolce and a splash of steamed breve with the foam. I also added a few packets of stevia. My stomach was rumbling a bit, so I also snacked on a Luna bar that was stashed in my purse. It's been awhile since I've had one of those and it was just like eating a candy bar. Love Luna bars!
Before I had left the house, I whipped up some Texas Caviar… to use up more tomatoes. When I got home I scrambled a couple of eggs and then tossed them with the Texas Caviar on a Food for Life Ezekiel tortilla. Unpictured, I also had another tomato on the side!
The MixMyOwn giveaway is still going on! Be sure to enter! For more information about MixMyOwn, check out this post. a Rafflecopter giveaway
Something to think about….
Any other tomato gardeners out there?
Have you ever made homemade salsa?
What's your signature Starbucks drink?
Hope your week is going great!