Good Morning to all my foodie peeps! I've been married for 18 years today! I cannot believe it has been that long. In no way, shape or form does it seem like it's been 18 years. Yes, I was VERY young when I got married. I'm so lucky to get to wake up next to my best friend every day. Here's to 18 more!
It's that day again… What I Ate Wednesday. Yesterday was a delicious day of eats, but I have to admit, it's the same old thing I've been eating for weeks.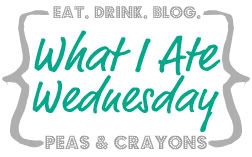 I've been starting most mornings with a huge bowl of warm and very filling oats. Oh and you better believe there was plenty of coffee involved. I've been fixing my oats like
these Pumpkin Banana Oats
, but instead of using pumpkin, I mash up 1/2 of a small banana and dice the rest of it in the cooked oats. Yesterday, I topped my oats with blueberries, diced strawberries,
Chocolate Peanut Butter Granola 
and a tablespoon of Trader Joe's crunchy salted peanut butter (love that stuff). Oatmeal is one food that really keeps me full all morning until lunch, plus it's delicious. Why change a good thing?!?! 
Sorry to keep using this pic, but a bowl of oats is a bowl oats and there was no sunlight for a pic.
Like I said the oatmeal keeps me full until lunch time, so no mid-morning snack is needed. Lunch has also been more of the same. Even though it got up to 87 degrees today, I was still craving soup for lunch. You're not really stuck in a rut, if you enjoy that rut, right? 😉 I had made my Roasted Cauliflower Carrot Soup on Sunday, so leftovers it was. This soup is so creamy delicious and pairs perfectly with a grilled cheese. Instead of slathering butter on my bread when I make grilled cheese sandwiches, I just spray a little coconut oil cooking spray on one side of each slice…. perfection! Another filling meal for the day, so there was no need for a pre-workout snack.
After lunch, I headed out to pick Madelyn up from her horse camp; which is a bit of a drive. Once I got her back home, it was time for a workout session. I ran for three miles and then did a leg/tricep workout…. love working legs and my triceps need all the help they can get. Back at home, it was dinner time. I've been having the same dinner day in and day out. I've even had it for breakfast here and there. It's quick, healthy, filling, delicious and all of my favorites on one plate! I scramble two organic cage-free eggs with a handful of fresh organic spinach. While my egg is cooking, I slice an organic pink lady or gala apple and drizzle a tablespoon of nut butter over it. I serve it all with about 1/2 cup of organic cottage cheese; which I snack on while getting everything ready. Easy and yum!
After dinner, there was more coffee….. I'm still loving my Chocolate Glazed Donut k-cups. I also snacked on some sweet banana chips and 1/2 of my Skinny Blueberry Muffins, that don't taste skinny.
Love days like yesterday and I'm sure it will be more of the same today! Plans for today are to clean my house, get my car washed and figure out a new recipe I can create. I need to get my butt in the kitchen soon!
Something to think about….
What deliciousness did you eat yesterday?
When you find a meal that you love, is it on repeat?
What meal do you eat over and over again and never get sick of?
Of Possible Interest: Registration for the Spring Conscious Cleanse is now open! Use code EBCC414 to get $25 off. Good until Sunday, March 16th. Register here —> http://www.1shoppingcart.com/app/?af=1542561 Read about my experience on the cleanse here—> https://www.kimscravings.com/conscious-cleanse/
Head over to my blog post from Friday. You've got to try these Mini Snickerdoodle Muffins. They're so good, they almost taste like cinnamon-sugar donuts! Also, enter the giveaway to win $20 in Coffee-mate product, so that you can make your own Snickerdoodle Muffins! This giveaway ends Friday.
Have a wonderful Wednesday! Yikes…. where is my spring break going. Slow down, week!!!