Hi, guys! It's What I Ate Wednesday time! I have to say, with last weekend being Easter and me having a little extra time on Saturday to create a new snack recipe; I've been eating pretty great lately. For this edition of What I Ate Wednesday, I'm sharing recent eats and treats I've been loving. Hopefully, you find a new recipe or at least inspiration for something new to try!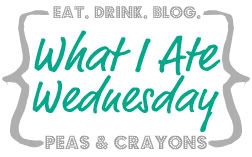 I've been on a pretty big pancake kick, recently, and it all started with
my fabulous two ingredient pancake
! Then, this past weekend, I decided to give
Amanda's Banana Oat Greek Yogurt Pancakes
a try. Dare I say…. best pancake recipe ever! It's so easy because you just combine everything in the blender and then pour onto the skillet. These pancakes also cook up perfectly for me every time. Oh and the taste…. delicioso!
Moving onto lunch…. I've actually had the above pancakes for lunch, but I've also been enjoying throw together salads. I've made them with a Greek yogurt base, olive oil and chickpea base and this past weekend I made quinoa salad with a lemony vinaigrette. It turned out to be a great side or light meal that pretty much pairs well with anything.
Summer Vegetable Quinoa Salad
Serves:
4-6 servings as a main meal
Fresh flavorful quinoa salad that's perfect as a light meal. Also pairs well with most anything as a healthy side dish.
Ingredients
1 cup quinoa, uncooked
½ large onion, chopped
1 large red bell pepper, chopped
1 zucchini, chopped
1 cup broccoli florets
1 can black beans, drained and rinsed
Juice of 1 lemons
1 Tbsp balsamic or pomegranate vinegar
1 Tbsp olive oil
½ tsp black pepper
½ tsp sea salt
Pinch of red pepper flakes
1 packet Stevia
Instructions
Rinse quinoa. Bring 1½ cups of water to a boil in a small saucepan and add quinoa. Cover and reduce heat to a simmer, cooking for about 15 to 20 minutes. Turn heat off and allow quinoa to sit for 5 minutes, then fluff with a fork. Allow quinoa to cool before adding in the rest of the salad.
Meanwhile, sauté onion, bell peppers and zucchini with about a tsp. olive oil until onion is translucent and pepper is are soft, about 3 minutes. Add broccoli and black beans and cook for another 3-5 minutes. Add mixture to cooled quinoa and mix well.
In a separate bowl, whisk together lemon juice, vinegar, olive oil, salt and pepper, Stevia and red pepper flakes. Pour vinaigrette over salad and toss well. Serve chilled or at room temperature. Enjoy!
For snacks, it's either fruit, yogurt, Larabars or hummus with veggies. I received the most generous shipment of sun-dried tomatoes from Mooney Farms…. about a week ago, so I created a Sun-dried Tomato Hummus. I can't wait to share the recipe with you, soon!
My recent dinners have been Butternut Squash Black Bean Chili, Chopped Southwestern Tuna Salad and Omelets with fruit. On Friday night, I made Chicken Artichoke Pasta in Lemon Sauce with hopes of taking new pictures of this recipe for the blog. It's such a great recipe, but the photos just don't do it justice. Unfortunately, when dinner was ready it was getting dark and I was in no mood for a photo shoot. I just wanted to eat. #bloggerproblems How about a picture from dinner, last night, instead? Not the most beautiful picture, but it sure was yummy. I had two eggs scrambled with chopped spinach, an apple with a tablespoon of Trader Joe's crunchy peanut butter and unpictured cottage cheese with Van's crackers…. aka my go-to dinner.
If you read the post from yesterday, you probably won't have a hard time guessing what my choice of dessert has been. Yeah that's right, the best banana pudding ever!
Something to think about….
What deliciousness have you been enjoying?
Are you a fan of quinoa salads?
Have you ever had Sun-dried Tomato Hummus? What's your favorite kind of hummus?
My weaknesses have always been food and men – in that order. ~Dolly Parton
Happy eating!