What I Ate Wednesday- Back to the Grind
Hello!
You guys are probably getting so sick of hearing about me going back to work, how busy my life is and that school's starting soon and it's more than likely going to just get worse. Blah, blah, blah!!!! Sorry- that's just what's going on with me…
My meals have been far from fancy, lately. I've doing lots of prepping on Sunday, so that I have easy grab-n-go meals for those chaotic weekdays.
It's been awhile since I've done a collage-style What I Ate Wednesday, so here we go…. And if you'd like to see more WIAW shenanigans visit Jenn– a.k.a. Queen of the WIAW party. 🙂
So, the above is pretty much my week has looked like when it comes to eats. All good things… all super yummy things!
Breakfast has been a mixture of green smoothies with cherries (very ugly, but deliciously sweet), banana whipped oatmeal with either blueberries or cherries, whole grain strawberry muffins and overnight cherry oatmeal. Can you tell what fruit I have a bit of an obsession with right now? 🙂
For protein-packed snacks, to eat throughout the week, I made some mini spinach frittatas. They've been perfect to bring to work and snack on when my tummy starts talking to me. And, of course, I've had my chocolate peanut butter Quest Bars. Another snack/drink I've been enjoying is a new recipe that I'll be sharing very soon- a banana vanilla frappuccino or vanilla banana frappuccino (Which sounds better? I haven't decided yet.)
You're probably sick of hearing about my love of the salad in a jar, but you guys know what a huge salad fan I am and these have been such a convenience for workday lunches. Except for the few days that I've been out to lunch with coworkers, these have been my go-to lunch. The MorningStar Farms veggie burgers are wonderful chopped up in my jar salads, too.
Have you guys been to Jason's Deli? It's one of my all-time favorite places to eat. I always feel so darn healthy after eating a huge veggie-filled salad from there. Love those little gingerbread muffins too! Luckily, my kiddos love it just as much as I do. When I took Landen back-to-school clothes shopping this past weekend, his choice for dinner was Jason's Deli. He didn't have to ask me twice. 😉
My choice for an after dinner/before bed treat has been the Proyo frozen treats that I reviewed in this post. They're really the perfect dessert- the added protein keeps me satisfied, so I don't wake up famished in the morning.
Click the button below for more WIAW fun!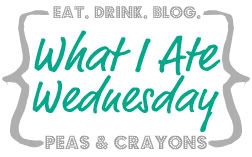 Something to think about….
What have you been eating this week?
Are you obsessed with any particular fruits, lately? Not only have I been adding cherries to everything, but I've been scarfing down the watermelon like crazy.
Have you tried creating a salad in a jar? How about overnight oatmeal?
Of possible interest: I know you guys loved the funny t-shirts as much as I did! For a limited time, Matt is offering HHG readers 20% off with the promo code HUNGRYHEALTHYGIRL. Head on over and take a look at all of the awesome options! http://www.iamfunnyshirts.com/